Small business is significant to Sedona's success

 THIS ARTICLE APPEARS IN THE RED ROCK NEWS
September 15, 2023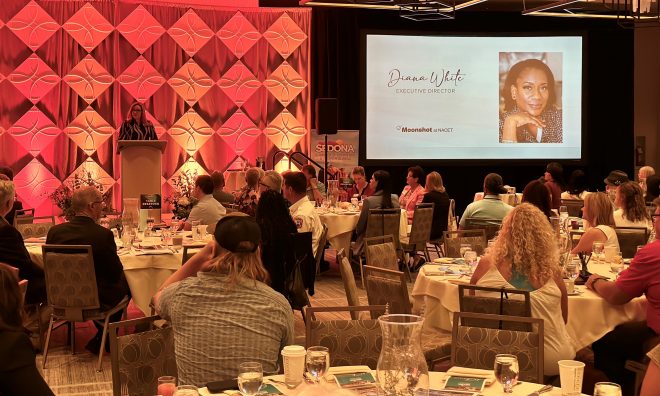 Every local business, art gallery, boutique and retail shop, restaurant, tour guide, winery and home service are most likely owned by residents who live within Sedona and the Verde Valley.
In fact, small businesses and entrepreneurs are the backbone of Arizona's economy — And it's their tenacity that makes Sedona survive, even during the tough times.
That was the message that Diana White, executive director of the Moonshot at NACET in Flagstaff delivered during her keynote speech at the Sedona Chamber of Commerce & Tourism Bureau's Annual Partner Meeting, which was held last Thursday, September 7 at the Hilton Sedona Resort at Bell Rock.
White referred to the COVID-19 Pandemic stating, "What stands out to me is the tenacity and resourcefulness of our local business owners. Our small businesses have also demonstrated their adaptability, especially during challenging times like the recent pandemic. Many swiftly pivoted to online sales, take-out services and created marketing campaigns, ensuring that they would be able to continue to service their customers. This adaptability and resilience have solidified Sedona's position as a small business success story. Despite the occasional economic downturns, the Sedona community has always found a way to adapt and overcome.
One might wonder what makes Sedona so deeply resilient. "The answer lies in the symbiotic relationship between local business's support from the chamber and tourism," White said. "As we reflect on their significance today, let us recognize that Chambers of Commerce are not just business organizations, but pillars of community strength, helping our cities and towns thrive."
White acknowledged that it's not just about the numbers. "It's about the stories behind these businesses. It's about all the dreamers and the visionaries who saw an opportunity to share their passion with the world. It's about business owners who started from scratch, poured their hearts and souls into their ventures and in turn enriched our community," she said.
White also acknowledged that it's not always about work. "Many of you here today are still trying to find a balance between growing your business and enjoying a life of abundance and enrichment. Isn't it interesting that we live in such a beautiful place like Sedona, and we're still trying to figure out how to have that balance, because we work so hard, right?" she asked.
In order to take into account our work-life balance, White suggested that we write down everything we've committed ourselves to in the next six months to a year. And then categorize them into three buckets. Does it feed my soul? Does it bring in income? Or does it build my brand? If any of the commitments fail to fall into one of these buckets, she encourages us to let it go.
White's keynote address resonated with many of our business members in the audience. This year's incredible attendance included Sedona's business leaders, community nonprofits, SCC&TB's Board of Directors and staff among others.
I would like to congratulate our long-time partners and our business leaders who won honorary awards including, the Sedona Red Rock Trail Fund for Sustainability Achievement Award, the Sedona International Film Festival for Cultural Achievement Award and both the Sedona Fire District and Coffee Pot Restaurant who were tied for the Customer Service Excellence Award.
We are so proud of our businesses, our community leaders and our residents who make Sedona the best place to live, work and play.
–Michelle Conway, President/CEO
Sedona Chamber of Commerce & Tourism Bureau
---