Honoring Our Veterans With a Special Tribute

 THIS ARTICLE APPEARS IN THE RED ROCK NEWS
November 11 2022
---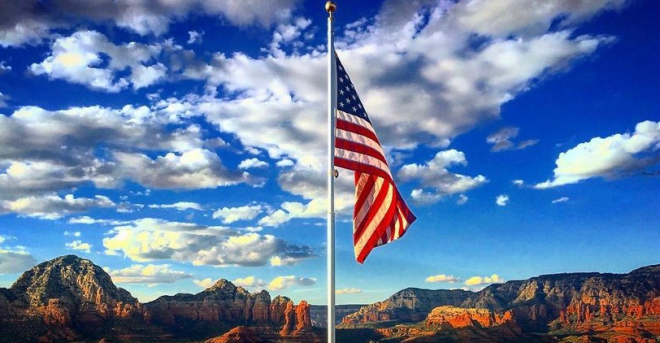 Happy Veteran's Day, and a special thank you to all the men and women who have served our country worldwide. More than half a million veterans live in Arizona. It may be surprising to know that the Verde Valley has a higher-than-average number of veterans who reside in the area. Around 12.5% of the population has a veteran status.
At the Chamber, I meet many entrepreneurial vets who are now running local businesses. They often cite military training as a contributing factor to their goal-oriented thinking, discipline and the opportunity to meet Americans from all backgrounds broadened their worldview. I love the unique spirit they bring to Sedona. I'm thankful for their service.
Today, at 11 a.m., Sedona will honor our veterans at the Sedona Heritage Museum — an annual event co-hosted with the city of Sedona. This year's special guest is Jerry 'Geronimo' Martin, a veteran, and the great-great-grandson of Geronimo. Though his place in Arizona history is world-famous, fewer know Geronimo's connection to the American military and General George Crook, who left his own mark on the Verde Valley.
Crook commanded the Army's Department of Arizona in the 1870s. Holding a relatively enlightened view of his Apache opponents, he acknowledged their skill and motivations and attempted to understand Apache culture. In return, leaders such as Geronimo respected Crook as fierce but fair-minded.
In 1871, the newly arrived Crook led a detachment from Tucson in 110-degree heat to acquaint themselves with his command. In his memoir, 'On the Border with Crook,' Captain John Bourke writes, "Our line of travel was east 110 miles to Fort Bowie, thence north through the mountains to Camp [later Fort] Apache, then across an unmapped region at the base of the Mogollon range to Camp Verde. In all, 675 miles, most of it in the presence of a tireless [Apache] enemy, making it the best kind of school."
"From the [Mogollon] plateau, we could see the Bradshaw's and the sky-piercing cone of the San Francisco peaks to the northwest," Bourke writes, "but were afraid to trust ourselves in the forbidding canyons. Fossil Creek, 1500 to 2000 feet deep, we deemed it best to avoid." Later, "…we struck the canyon of Beaver Creek, and at last the wagon road into Camp Verde." Their route from Fort Apache to Camp Verde is still known as General Crook's Trail.
The Apache Mohave chief Chalipun surrendered to Crook at Camp Verde in 1873, Bourke writing that Crook promised Chalipun that if peace was maintained "he [Crook] would be the best friend he ever had, that their shared duty was to establish peace." Crook offered to train tribal members as scouts and peace officers.
Geronimo and his Chiricahua band in southern Arizona fought and evaded Crook for years, coming to terms in 1886. The night before the surrender, Geronimo, camped over the border in Mexico, was falsely told he would be murdered by renegade soldiers when he crossed. He slipped away during the night, a getaway that cost Crook his command.
When fighting resumed under General Nelson Miles, captured Apache of Crook's acquaintance, including Geronimo, were imprisoned for decades, though many had served as scouts under Crook. Furious at this maltreatment, Crook protested vigorously, to what many say was the detriment of his career. Geronimo died in Oklahoma in 1909, still a prisoner.
The opportunity to meet and hear Jerry Martin, with so much of the complex history of Arizona, the Apache bands, and the U.S. military in his background, is to encounter a uniquely American voice. I hope you will attend today, to thank Jerry Martin and all those who have served, and remember our history with humility and respect for all.
–Michelle Conway, President/CEO
Sedona Chamber of Commerce & Tourism Bureau
---