Community Events designed to stimulate conversation

 THIS ARTICLE APPEARS IN THE RED ROCK NEWS
February 10, 2023
---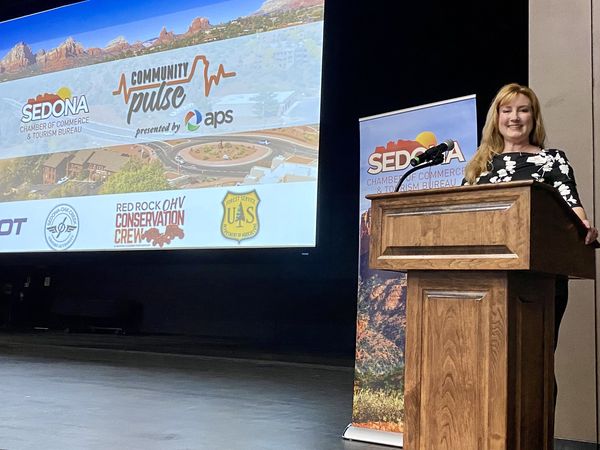 Thanks to everyone who engaged in the Community Pulse event yesterday at the Performing Arts Center at Sedona Red Rock High School. Getting in-person updates from community leaders — plus the chance to ask questions — is an authentic 'town hall' experience.
It's a great opportunity for residents to meet and question leaders from government, federal agencies, school districts, colleges, local nonprofits, and even private companies such as APS, all under one roof.
Many have enthusiastically joined past Community Pulse events and will do so again. I hope you will take part too. Community Pulse events occur twice yearly, so look for the next event later in 2023.
City staff explained the excellent opportunity Sedona residents have this year to impact our future. State law requires communities to enact a Community or General Plan, updating it every ten years. We're due in 2023.
The General or Community Plan is the primary statement of goals and policies on community character, land use, the natural environment, business and economics, neighborhood vitality, transportation and growth. It shapes the city's physical form, with broad guidelines on zoning, for example. The city's Plan Sedona process is a chance to add your ideas, a once-in-a-decade opportunity. Find out more at PlanSedona.com.
Southwest Decision Resources, an Arizona-based group that organizes collaborations on issues such as OHVs and the environment, updated us on the recent formation of the Greater Sedona Recreation Collaborative. Expect to hear more as their work advances.
Mike Gilboy from Cottonwood Area Transit reported that the Verde Shuttle now averages 160 riders each day. The most popular trips are Cottonwood to Sedona in the early morning and Sedona to Cottonwood in the afternoon. The shuttle is an affordable way to ease the stress and cost of commuting. It runs seven days a week from 6 a.m. to 11 p.m. Visit VerdeShuttle.com for more information.
Beginning February 18 – 26, the 2023 Sedona International Film Festival brings premieres, famous names, and a hefty dose of show-biz excitement to town. I'm delighted that SIFF will be in-person in their customary February time slot and celebrating their 29th year.
Over the nine-day event, we will welcome some of the nation's most accomplished film and entertainment artists and thousands of aficionados. Naturally, we can expect a burst of national media coverage due to SIFF's reputation as one of America's most desirable venues for film debuts.
During the Sedona International Film Festival, our town briefly becomes the epicenter of cinematic artistry at the highest levels — from full-length features, documentaries and shorts to foreign and animated films. Among the more than 150 films that will be shown at the festival, many include stories about social, environmental, political and historical issues. The shorts program is varied and deep, a true must-see. The popular Filmmaker Conversation Workshop Series is also back, with its always-lively discussions on the art of filmmaking.
While the festival gains popularity every year, we have seen a significant increase in attendees since its inception in 1995. The program itself offers thought-provoking, stimulating and powerful conversations that allows viewers to see the world through a different lens. We live in a town that values and honors great art. We are so lucky!
Today, in addition to acknowledging our Community Pulse partners, I want to offer a deeply heartfelt 'thank you' to SIFF Executive Director Patrick Schweiss, his team and the many volunteers poised to make SIFF 2023 another tremendous Sedona success. We value your vision and hard work!
###
–Michelle Conway, President/CEO
Sedona Chamber of Commerce & Tourism Bureau
---