Village Yoga is now a Certified Sustainable Business
Village Yoga is now a Certified Sustainable Business at the Innovator/Silver level from the Sustainability Alliance.
When Marianne Langridge took over ownership of Village Yoga in 2021 she had a clear purpose: "The vision of our business is sustainability. Everything we offer is with the intention of educating visitors and members about actions they can take to support sustainability personally, locally, globally."
From the start, Langridge has been steadily implementing this vision. Here are some of the steps she's taken so far:
Climate and Energy: The business participates in the APS Green Choice program for 100% of electricity and they minimize heating and cooling when the studio is closed. They use mostly natural light, and open exterior doors to improve air flow and ventilation when weather allows. Indoor plants and an Air Doctor filter ensure good indoor air quality.
Toxics and Waste: They recycle over half of their waste, including cardboard, plastic, and metal cans. Clothing hangers are reused to display retail items. Clients and teachers bring their own reusable water bottles and fill them with filtered water available at the studio. Local members bring their own mats to class, and visitors can use loaner mats repurposed from the previous ownership.
Consumable items, such as toilet paper and paper towels, are made from unbleached bamboo. Retail products sold in the studio are sourced from local and sustainability-focused suppliers such as State 48, Nomadix, and Yoga Democracy.
Team and Community: For this wellness-focused service business, the true heart of the enterprise is people. "We are committed to creating an atmosphere of inclusion to ensure that people of all ages, races, ethnicities and experience levels feel welcome and supported," says Langridge.
Yoga teachers are encouraged to participate in free meditation and yoga classes, and are consulted on major plans and opportunities for personal growth. They bring in creative ideas and have open dialogue to find ways to help them succeed. The studio is becoming known as a great place to work.
Langridge actively recommends local businesses for products such as juice, microgreens, and chocolate, rather than providing the items directly. Not only does this offer more selection for customers, but it supports other local entrepreneurs while allowing Village Yoga to focus on its core business.
Soon there will be a page on the Village Yoga website to educate teachers, members, and visitors about their sustainability metrics and outcomes. "We view yoga practice as a commitment to personal sustainability and to understanding the connection to the greater good."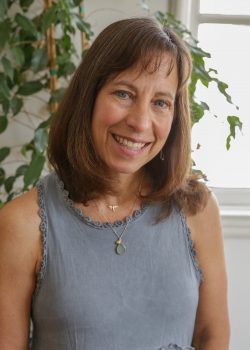 Village Yoga | Marianne Landridge
6657 State Route 179, C-1
Sedona, AZ 86351
(928) 325-7376 | yoga@sustainablesynthesis.com
---