A Sunset Chateau upgraded their Certified Sustainable Business to Innovator/Silver
Not only does A Sunset Chateau offer great views and delicious breakfast, they're powered entirely by solar panels. During the pandemic, they continued paying all their staff. As General Manager Jean-Christophe Buillet explains, "We figured the shutdown wouldn't last forever and it would feel wrong not paying them." In the midst of the Great Resignation, they didn't lose a single staff member.
Here's what else they've done to qualify for an upgrade to Innovator/Silver.
Energy/Climate: They're upgrading all their HVAC units to 20+ SEER ceiling-mounted electric mini-splits. They made sure their newer refrigerators and wine coolers had climate-friendly refrigerants. And they have a small electric truck which gets charged by their solar panels.
Toxics/Pollution: They have a saltwater pool/hot tub which reduces the need for chlorine chemicals. They don't use any chemicals in their landscaping and instead pull weeds by hand. They also care about indoor air quality. Mattresses are from Brooklyn Bedding, made with CertiPUR-US certified foam that doesn't have "Tris" flame retardants or formaldehyde. Smoking is not permitted anywhere on property. Dispensers in the showers reduce waste and they use EO brand products that get good ratings by the Environmental Working Group.
Ecosystems/Water: They've given thought to all their paper products. Roll towels are FSC (Forest Stewardship Council) certified as well as having recycled content. They buy toilet paper from Who Gives a Crap. See our review here. They also minimize food waste. Buillet explains, "We almost never throw away food. Everything is made to order and most people eat the majority of food on plate." The staff eats together, making use of any leftovers.
Employees/Community: In addition to supporting their employees through the pandemic, they also gave away 20 nights lodging to essential workers. They pay hourly staff well, and the entire team eats breakfast together which creates a familial feeling. And Buillet became fluent in Spanish to ensure he could talk easily with the whole staff. They donate old bedding to the Humane Society.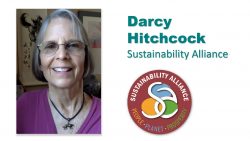 See who else is certified.
---