The majesty of Mother Earth has never meant more to Sedonans. More than ever, we treasure life in The Most Beautiful Place on Earth!
As we celebrate Earth Month and our ongoing recovery from the COVID-19 pandemic, we must act to keep Sedona sustainable for ourselves, our families and future generations.
You can decide today how you will help. Here are a few ideas!
---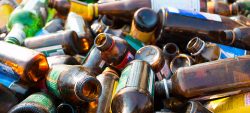 RECYCLE  Print and post this simple, colorful one-page recycle guide and take this crash course two-minute recycle knowledge quiz. Did you know metal hangers are not recyclable (Oh, dang! We just gave you one of the answers!)
VOLUNTEER  Even if it is just an hour a month, we Sedonans need to grab the reins and keep Red Rock Country pristine. Sign up to pick up trash, staff a food bank counter, lend a hand at our recycling facility, and more. It feels FANTASTIC to make a difference. Check out our Voluntourism Page to learn more.
BE HEARD  Join Sedona Chamber President/CEO Candace Carr Strauss for her walk-and-talk hikes. Share your ideas with Candace on how we can work together with our government and local nonprofits to make Sedona the best place to live, work, play and visit. Or drop Candace a line any time. Warning: you will be a Sedona change agent before you know it!
TAKE THE PLEDGE  Signing the Sedona Cares Pledge helps keep Sedona gorgeous. It is your public declaration of support for our environment and unique quality of life. The more people that sign on, the stronger the message we send to our visitors that Sedona expects everyone to act responsibly.  Take the Pledge today!
LEARN THE SEVEN PRINCIPLES OF LEAVE NO TRACE   The principles are the foundation of responsible behavior in our wild outdoors. Learn new ways to protect the land and wildlife while modeling Sedona's environmental philosophy. You can also take the Leave No Trace Awareness course to become an expert!
SPREAD THE WORD  You have a vital role in communicating to out of town friends and relatives that Sedona is gently but firmly setting expectations of our guests. Encourage them to take the Sedona Cares Pledge, Voluntour and follow the Leave No Trace principles. Let them know they are part of the solution! Most people love to make a positive difference.
GET INVOLVED  Follow Sedona's progress in achieving the Sustainable Tourism Plan and decide which partner organization you want to assist. There are plenty to choose from!
BE ACTIVE  The Sustainability Alliance created an Earth Month calendar of events for Sedona and the Verde Valley! Check out the calendar and see how you can take action and give back to Mother Nature!
SUPPORT LOCAL  There are over 100 businesses in Sedona and the Verde Valley that are sustainably certified with the Sustainability Alliance. Show your support by shopping, eating, staying or adventuring at sustainable businesses. More than 50 local businesses are also Straw Free!
---
Links
Earth Month Calendar of Events
National Park Week – free admission
The Sedona Sustainable Tourism Plan
Sign up for our Local Newsletter
Thank You, Sedona!