Sedona Spirit Journeys and Vortex Tours is now a Certified Sustainable Business
November 19, 2020 – Sedona is known in part for its metaphysical opportunities. Laurie Hutchinson (whose chosen name is Crystal StarrWeaver) runs Sedona Spirit Journeys and Vortex Tours. With her background in teaching science, she blends knowledge of energy, geology, and Native American heritage with the history of Sedona.  Her company is only the second USFS Red Rock Ranger District outfitter/guide permit holder to get certified.
Crystal StarrWeaver focuses on teaching her guests about the importance of staying on the trails so not to kill the cryptobiotic soil crusts. She pours a little water on the ground so they can see it quickly turn green. That fragile layer protects the soil from erosion, retains moisture and builds soil fertility.
She keeps her carbon footprint under control. "We work out of a lodge and storefront where we rarely turn on the AC. We only use the fans when necessary." The lodge building has older stone walls which act as 'thermal mass,' moderating air temperatures inside the building. The lodge/retreat center is an historic building that complies with Dark Sky guidelines. The retreat center building has skylights in most rooms for natural lighting. And they plan their routes to minimize gasoline.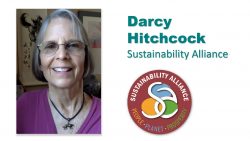 She also uses green cleaning products like a vinegar solution and doTERRA essential oils. When Covid rules allow, she provides water for her guests to refill water bottles. See who else is certified.
---