Sedona Police and Fire Chiefs, Fire District Chair, Rabbi Speak from the Heart At 9/11 Memorial Ceremony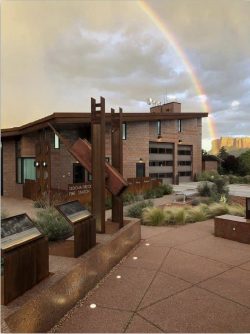 On September 11, I attended Sedona's observance of the 20th anniversary of the 9/11 attacks, a solemn ceremony at Fire Station #6, on SR179 and Cathedral Road. The station is home to the region's 9/11 memorial, centered a 5 1/2 foot, 3,000 pound steel girder, damaged in the collapse of one of the World Trade Center towers. It is a sobering sight.
The event was appropriately somber, cohosted by the Sedona Fire District and Police Department. There were featured speakers, an honor guard, a flag ceremony, a bell ringing, fife and drum accompaniment and a gun salute.
Dignitaries in attendance included Congressman Tom O'Halleran, Mayor Sandy Moriarty, and Assistant Sedona Police Chief Stephanie Foley. Police Chief Charles Husted, Fire Chief Jon Trautwein, Sedona Fire District Board Chair David Soto and Rabbi Alicia Magal all spoke at the event. Their remarks were so powerful I asked each of them for a written copy so I can share them with you in their entirety.
First, Sedona Police Chief Charles Husted:
20-years ago, today, 2,977 people never returned home to their families as a result of the terrorist attacks at the World Trade Center, the Pentagon, and in a field near Shanksville, Pennsylvania.
I remember being home and getting my kids breakfast when these horrific terrorist attacks occurred.
Everyone I've spoken with since, also remembers exactly where they were and what they were doing on September 11th, 2001, when our nation was attacked by terrorism.
We remember the emotions we experienced, such as FEAR, ANGER, SADNESS, and GRIEF in response to these attacks.
For some, these emotions have not gone away in these past 20 years.
Time has NOT healed the emotional wounds suffered.
In the days, months, and even immediate years after September 11th, 2001, Americans came together in unity, for a common purpose and shared destiny.
Sadly, that broad level of American unity and togetherness that once drew our country together after the 9/11 attacks no longer exists.
The terror groups that attacked us on 9/11 and all of those that identify with their ideology want to kill Americans. They don't care about our RACE, CREED, COLOR, GENDER, or POLITICAL affiliation.
Their focus, and, for some, life's mission, to kill and terrorize us, is as strong today, if not stronger than it was 20 years ago.
Our CHALLENGE to each of us and our society this morning is to recall and harness the strength of those intense emotions that we felt as a result of the attacks on 9/11.
To remember how we came together as Americans, regardless of any differences. And use that common energy to move beyond the extensive divisiveness and polarization that has pulled us apart.
We MUST come together as one nation, under God, and work collectively to help ensure another 9/11 attack doesn't occur.
In the words of our 26th President of the United States and former NYPD Commissioner, Theodore Roosevelt, "Knowing what's right doesn't mean much unless you DO what's right."
We honor those who were killed on September 11, 2001, the brave souls who lost their lives trying to save others on that horrifying day, and those lives still impacted and lost to this day as a result of 9/11.
We must NEVER forget.
These are remarks of Sedona Fire Chief Jon Trautwein:
Over the past 20 years, reflecting on the events of September 11, 2001, one clear, and concise message remains in our hearts and minds, "We will never forget". What does, we will never forget mean?
We: The preamble to the Constitution of the United States says: "We the People of the United States, in Order to form a more perfect Union, establish Justice, insure domestic Tranquility, provide for the common defence, promote the general Welfare, and secure the Blessings of Liberty to ourselves and our Posterity, do ordain and establish this Constitution for the United States of America". "We" includes all of us, the citizenry of the United States, our country, our group.
We Will: The will of the American people is quite extraordinary. We could give many examples. One example I think of, is the example of American WWII veteran Louis Zamperini. Laura Hillenbrand portrayed his story in the book titled "Unbroken". Lt. Zamperini was the bombardier in a B-24 Liberator. In 1943, while on a search and rescue mission, his aircraft crashed into the Pacific Ocean. He drifted in a lifeboat for 47 days landing on the Japanese occupied Marshall Islands and was captured becoming a prisoner of war. The story of how he overcame unthinkable pain, suffering, beatings, torture is amazing. Like Lt. Zamperini, the American people have overcome incredible adversity over the years. Wars, conflicts, economic depression, disasters including earthquakes, tornado's, floods, wildfires, civil unrest, political upheaval. Yes, even September 11, 2001. A day that radically changed our country.
We Will Never: The word "never" means not ever; at no time; not at all; absolutely not; to no extent or degree. We must be emphatic, about never forgetting.
We Will Never Forget: If you were to forget something, it would be implied that there was something to remember. So, what do you remember from September 11, 2001? Maybe you or your family was in New York, or at the Pentagon, or near Shanksville Pennsylvania. Maybe seeing the horrific event unfold on live TV profoundly affected you. Maybe the unthinkable loss of life to first responders and civilians overwhelmed your spirit. Maybe you sent a loved one off to war engaging in subsequent hostilities with our enemies. Today, I charge each one of us to remember the sacrifice, determination, grit, perseverance, and resilience that characterized the American people to overcome, and confidently establish our strength and good will, following the most horrendous terrorist act in history. The direct sacrifice that some Americans made that fateful day should be an example to guide us today, and into our future.
May we the people of the United States, always strive to form a more perfect Union.
May we the people of the United States, always remember.
We Will Never Forget.
May God bless America.
David Soto, Chair of the Sedona Fire District Board, delivered these remarks:
It is an honor and privilege to speak to all of you today about a personal event I recently experienced. Since the creation of our 911 Memorial in 2016, my personal theme has always been that we are the story tellers of not only the events of 911, but also of how those events affected us on that day and the long-term effect it has on all of us up to this very moment.
For the past 20 years, it has been a goal of mine to visit the three crash sites. So, in May, my wife Virginia and I, packed our bags and made the trip back East. And although the World Trade Center and the Pentagon attract most of the attention by tourists, it was the Flight 93 National Memorial near Shanksville, Pennsylvania that affected me most. 2,200 acres encompass this National Memorial that was an old strip mine years ago. As I drove through the entrance, a very humbling, somber sense came over me. My driving speed slowed down, my eyes widen, My breathing became shallow perhaps because I realized I was driving on sacred ground in a very, very special place.
At the parking lot, we got out of the car and walked toward the visitor center, I looked down at the black granite walkway, it was engraved with the timeline of events that happened that day. In addition, we were also walking below the final flight path of Flight 93 just prior to impact. As we approached the end of the walkway prior to entering the visitor center, we found ourselves on a knoll, overlooking almost the entire grounds. On a glass barricade was etched "An ordinary field one day, a place of honor forever." In the distance to the south, lay a large boulder marking the actual impact location of Flight 93 accessible only to the family members of those lost American passengers and crew.
As we made our way into the visitor center, displays of the event, timelines, and artifacts found were viewed by all. One wall, a mural of a plane's interior with people talking on mobile phones. I was able to don a head set and listen to the recording of passengers calling loved ones for the very last time. I stood there, leaning against the wall, head down, as tears welled up. Trying to hold back the tears, listening to the voices from loved ones a final time. As the recording ended, I turned and wiped the tears as I walked away. I came upon the last display, of gifts from local school children, drawings, paintings and letters. Above these, again was the previous quote mentioned "An ordinary field one day, a place of honor forever" a quote by Stephen J. Ruda, Captain, Los Angeles City Fire Department.
In that moment, I immediately forgot everything else I had just experienced, forgot about the calls I just heard and stood as tall as I ever had, because, you see, back in 1978/79, some 43 years ago, I was assigned to Fire Station 37 near UCLA and a new recruit came on board, the station commander assigned me to train this new recruit. As he extended his hand to introduce himself, his name was Stephen J. Ruda.
A connection had come full circle after all these years. A very proud moment for me!
Eventually, we made our way to the Tower of Voices. This single tribute simply took my breath away. Before me, symbolic of Flight 93, a 93' tall cylindrical, hollow concrete tower with 40 windows. Mounted inside the tower at each window was a wind chime tuned to a different note or "voice" for each American passengers and crew. As I stood there and faced this massive tower, the sky was cloudy with light rain, the wind blowing, causing the chimes to sound over and over. I closed my eyes and listened to all of the voices before me and in my mind, the recordings of those last made phone calls were as clear as anything I have ever heard. That effect will stay with me for the rest of my life.
Flight 93 National Memorial was truly a life changing experience.
Rabbi Alicia Magal concluded the ceremony with these remarks and blessings:
We look to the Source of All Life to transform our memories of loss into compassion and healing.
Twenty years later, the memories still come in waves, melting our hearts. What have we done to heal ourselves and others? We still feel the pain for our country and the changed world. We pray to increase understanding, tolerance, and love among peoples of many religions and nationalities. Help us find peace and compassion in our hearts to enable us to overcome anger and despair. May the day come when kindness replaces cruelty, and healing overcomes hurt. We shall never forget. Our memories of where we were on 9/11 twenty years ago are all solid as this girder from the Twin Towers.
Our mourning for all those lives lost on that day and in the years since from that attack, the ensuing war, and illnesses caused by exposure to the hellish pollutants of body and mind, continues… but our faith in what is good in humanity can bring us to a new understanding of the vital importance of gratitude, appreciation, and acts of lovingkindness. We are now in the midst of the Ten Days of Awe between the Jewish New Year and the Day of Atonement, signaled by the blasts of the ram's horn, waking us up to a time of deep self-reflection about our relationships with people and our environment. May our deepest losses bring us to a humble realization of the power of connectedness with all living beings. May we make daily choices that are life-affirming, balancing the difficult memories with a strong wish to heal and hope. -Amen.
I was moved by the power and sincerity of what I heard on this 20th anniversary, and I am pleased to have this platform to share these remarks with you.
May we never forget the courage of those who sacrificed so much for others on Flight 93, Ground Zero and the Pentagon, and find unity as Americans in what they did on behalf of all of us.
-Candace Carr Strauss,
President/CEO
---