Peace Place Gifts & Reiki Center is Now a Certified Sustainable Business at the Bronze Level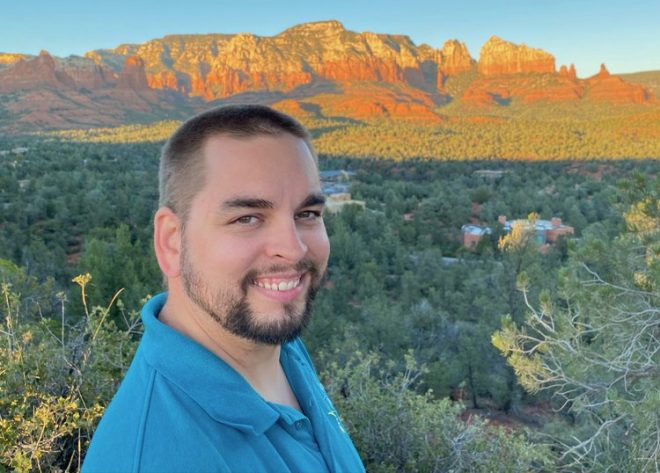 The team at Peace Place Gifts & Reiki Center shows that starting on a sustainability journey doesn't have to be hard, and small actions can add up quickly. Arthur Baird and his team all have a sustainability mindset. "We're here to be of service to everyone, including next generation," says Arthur, and they recognize that sustainability is key to preserving the planet for the future. The entire staff supports the efforts to earn them Bronze level certification from the Verde Valley Regional Economic Organization, and they are already on their way to earning the Silver level certification. 
According to Arthur, "Our primary business is not retail; we're here to be of service through healing offerings," and their commitment to community reflects that. Peace Place is active in the Sedona Chamber of Commerce and Sedona Metaphysical Spiritual Association. Arthur has been a guest lecturer at Arizona State University and a presenter at the International Reiki Retreat. Founder and teacher, Michael Baird is the Executive Director of  ICRT LMRT Program, a Professional Licensed Holy Fire® Reiki Master Teacher with the International Center for Reiki Training, a member of the Sound Healer's Associated, and affiliated with ISSSEEM.
Here are some of the steps they've taken so far:
Climate and Energy: The store on 355 Jordan Road has all energy efficient LED bulbs. They strictly control the HVAC to minimize the use. There are double pane windows and the building is well insulated. They work with local artists when possible and order in bulk directly from the manufacturer to minimize small orders.
Extracted Materials and Waste:  The majority of the store furniture and shelving are second-hand and they donate items they do not need. They do not sell single use items or perishables. They purchase items with minimal packaging and reuse any packaging materials they receive.
Meet Human Needs: The Peace Place team is like family.  Everyone has input on their schedules and improvements for the business. They all work together for success and value individuals from all walks of life. They deliberately welcome LGBTQ customers and team members, and work to accommodate parents' need to provide for their family. 
Get Certified and see who else is certified.
Peace Place Gifts & Reiki Center
355 Jordan Rd
(928) 203-7755
---