Making Sedona a better place

 THIS ARTICLE APPEARS IN THE RED ROCK NEWS
March 17, 2023
---
A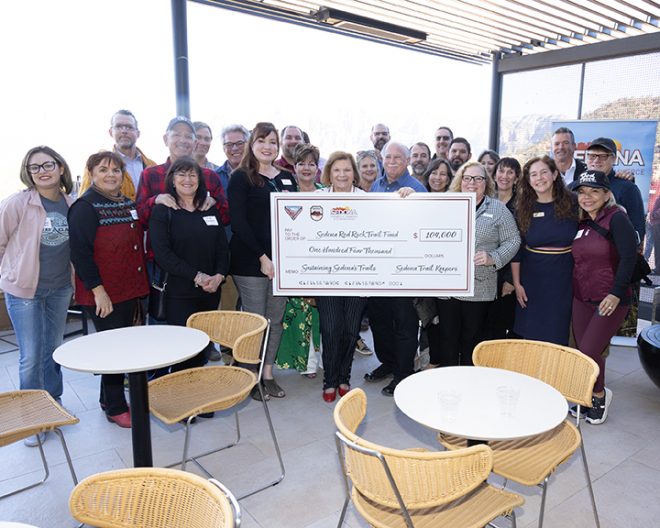 s the Sedona Chamber of Commerce & Tourism Bureau's President and CEO, it is my mission to help make a difference in Sedona.
On March 8, International Women's Day, we honored Sedona's women with a special luncheon at Poco Diablo Resort by holding an award ceremony and scholarship fundraiser. It truly was an inspiring and motivational event, recognizing our female leadership.
The very next day, the SCC&TB presented a check for $104,000 to the Trail Keepers 2.0. More than 50 sponsors contributed to the Sedona Red Rock Trail Fund, a five-year collaboration with Chamber businesses and the city of Sedona. Since 2021, over $370,000 has been donated to this fund.
Each contributor donates $1,000, which is matched with bed tax dollars by the city of Sedona. Mayor Scott Jablow, Amy Tinderholt, USFS District Ranger, and Sandi Heysinger, Vice President of SRRTF were on hand to share the momentous occasion at Sky Rock Sedona.
The result of this unique partnership speaks for itself. SRRTF maintained 275 miles of trails in the 2022 work season, installing 122 rock stairs, naturalizing 3.7 miles of unofficial "social" trials, and installing 115 trail signs and junction maps. Since Trail Keepers began in 2016, SRRTF has constructed approximately 60 miles of new trails and rerouted or adapted user-created routes. We will have another update next month, and I am sure it will be just as impressive.
Our Shredding Event on Wednesday, March 15, with Elevated Shredding proved to be successful. Cars lined up at the Sedona Performing Arts Center parking lot to drop off boxes of paper to be recycled. Last summer's Shredding Event generated about 4,000 pounds of paper that were sent to the shredder. Recycling these documents saved 760 gallons of oil, 8,000 kilowatts of energy, 34 trees and 14,000 gallons of water. It also freed up six cubic yards of landfill space.
Wednesday evening's Chamber mixer at Cress on Oak Creek at L'Auberge de Sedona brought out partners old and new, as well as those curious about Chamber membership. Excellent food and drink, live music and a raffle drawing rounded out a delightfully happy hour event. Always well-attended, Chamber mixers are one of the best ways our more than 700 members can connect and build new relationships, ultimately improving our economy and civic life.
Later this month, I will host our regular Nonprofit Leadership Roundtable at the Sedona Community Center, where representatives from the Sedona International Film Festival will talk about attracting and motivating volunteers. SIFF is one of Sedona's biggest events, with a multitude of volunteers at each festival. It will be inspiring to hear about their advice to fellow nonprofits who also rely on volunteer support.
All in all, March is a month filled with events that make Sedona the best place to live, work, play and visit.
I would like to wish all of Sedona a Happy St. Patrick's Day! I hope to see you celebrating around town. I'll be looking for you at the St. Patrick's Day Parade on March 18 beginning at 10:30 a.m. from Jordan Historical Park. See you there!
###
–Michelle Conway, President/CEO
Sedona Chamber of Commerce & Tourism Bureau
---