Enchantment Resort has received Innovator/Silver Sustainable Business Certification
Enchantment Resort invites guests to connect body, mind, and planet. Since its founding, this iconic Sedona resort has been committed to sustainability.
Enchantment's efforts often achieve multiple goals simultaneously. For example, the five Tesla charging stations benefit both guests and the environment, and battery powered housekeeping carts provide staff with clean and quiet movement around campus.
Water conservation in the desert serves everyone. The resort's private onsite wastewater treatment plant supplies reclaimed water for irrigation, and the landscaping team is phasing out non-native plants to minimize water use and better align with the natural ecosystem. Guest rooms have low flow shower heads and toilets, and guests are offered the option to reuse towels and save water. Sheets are changed every third day by default. All of these practices save both water and money.
A commitment to buying local supports the regional economy and reduces shipping impacts. Guest room amenities and spa oils are locally made, and the kitchen directs over half its purchases to local and instate producers. Another local business, A Greener Day Recycling, captures oil from the kitchen and spa and converts it into biofuel and other products.
At Enchantment, reuse is an important part of eliminating waste. Dispensers for cleaning products and guest room amenities are refilled and reused. Stainless steel water bottles can be purchased and refilled by Soma water carafes in rooms and FloWater stations in public spaces. Retired linens, robes, and mattresses are donated or repurposed.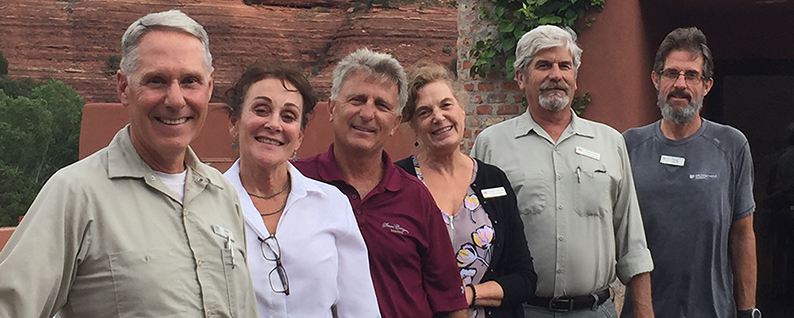 Enchantment recognizes that employees are central to sustainability. Resort team members can take a free shuttle to work, or carpool and receive gas cards. Some live in company-owned apartments, and all team members receive a free meal each day at the onsite Compass Café. These benefits serve employee needs, reduce driving impacts, and relieve housing stress all at the same time.
The resort supports the community in many ways. They partner with the U.S. Forest Service on trail maintenance through the Boynton Canyon Preservation Fund. They installed Kestrel, bat, and butterfly boxes and offer conservation-related classes for families. Enchantment also provides in-kind donations to many local and instate organizations including Verde Valley Sanctuary, Lions Club, Yavapai-Apache Nation, Habitat for Humanity, Sedona International Film Festival, and others.
Darcy Hitchcock, Sustainability Alliance,
darcy@sustainabilityallianceaz.org 928-554-5171
---