Updates to Sedonans
---
March 26, 2021
Dear fellow Sedonans,
SEDONA STATEMENT ON ARIZONA's LIFTING OF COVID RESTRICTIONS URGES CONTINUED USE OF MASKS, SOCIAL DISTANCING
The City of Sedona issued a statement regarding Governor Ducey's lifting of COVID restrictions and mask orders. The statement includes remarks from Mayor Moriarty encouraging businesses and citizens to continue following CDC guidelines regarding masks and social distancing.
DUCEY RESCINDS COVID RESTRICTIONS, BUSINESSES OKed TO RESUME "NORMAL OPERATIONS" 
Governor Ducey issued a press release and Executive Order March 25, 2021, announcing that Arizona businesses can resume normal operations, effective immediately. This includes: hotels and resorts, restaurants and bars, fitness centers, pools, waterparks/tubing, movie theaters and attractions. This new order repeals EOs from 2020 including: 09, 36, 40, 43, 47, 52, and 59.
Key changes for our industry include:
All events over 50 people no longer need the approval of local governments.
Events should continue to follow safe practices and CDC recommendations.
Business guidance also transitions from requirements to recommendations.
Governor Ducey is providing businesses with the ability to continue requiring masks and social distancing at their discretion.
Questions about these changes can be submitted to the Arizona Office of Tourism: recovery@tourism.az.gov.
According to the AOT, several positive data points enabled these changes:
10 weeks of declining cases.
Opening of vaccine appointments to all Arizonans over 16.
Mass distribution of the vaccine: 3,041,773 doses of COVID-19 vaccine have been administered to 1,927,278 individuals in Arizona, including 1,185,986 who have been fully vaccinated.
A recent CDC evaluation ranking Arizona among the best states in the nation for getting the COVID-19 vaccine to vulnerable communities.
President Biden's recent promise that every American will be able to be vaccinated by May 1.
According to the governor's news release, "Some local governments have implemented "mandates," however, they have rarely, if ever, been enforced. Under this latest action, those local mandates will be phased out. Mask usage is still encouraged, especially in groups that are not vaccinated."
According to Governor Ducey's accompanying  Executive Order, businesses and nonprofits "still maintain the right to institute and enforce policies to mitigate against COVID-19 spread including the use of face coverings and physical distancing and retain the right to refuse service to those who do not comply with the policies."
This is good news for the ongoing recovery of Arizona's economy and tourism industry.
Vaccine Distribution
COVID-19 vaccination information, including appointments, is available through Coconino County and Yavapai County websites.
Yavapai County Community Health Services and Northern Arizona Healthcare offer up to date statistics on COVID-19's local impact, including number and location of cases, hospital bed space and critical care bed space. For testing sites near you, put in your ZIP code at Arizona Department of Health. 
Visitor Education
Visitor Education remains a top priority for the City of Sedona and the SCC&TB. We are also reaching out to visitors, vigorously promoting our "Mask Up, Sedona" messages and posters that list these eight safety practices when visiting Sedona:  
Stay home if you are sick or have been in contact with a sick person.

Wash your hands often with soap and water for at least 20 seconds.

Avoid touching your eyes, nose and mouth.

Maintain a six foot distance from others.

Wear a protective face covering in public (when six feet distancing isn't possible).

Limit contact with others.

Avoid congregating in public areas.

Stay on trails except to let people pass (maintain six foot distance).
Sedona's policy requiring that masks be worn in public places remains in effect. Businesses have access to Sedona Chamber posters advising customers that masks are required and listing safe behaviors. We regularly encourage businesses to be sure their posters are prominently displayed and that employees are following safety protocols.
Sedona | Safe.Clean.Ready Educates Residents, Visitors, Businesses 
277 businesses have signed on to Sedona | Safe.Clean.Ready as we continue to help residents, visitors and businesses interact safely. This site lists all participating businesses and valuable safety tips. Look for Sedona | Safe.Clean.Ready window stickers and posters at businesses all over town.

Follow us on Facebook , Twitter and LinkedIn for the latest steps we are taking together to battle the pandemic. 
Sincerely,
Candace Carr Strauss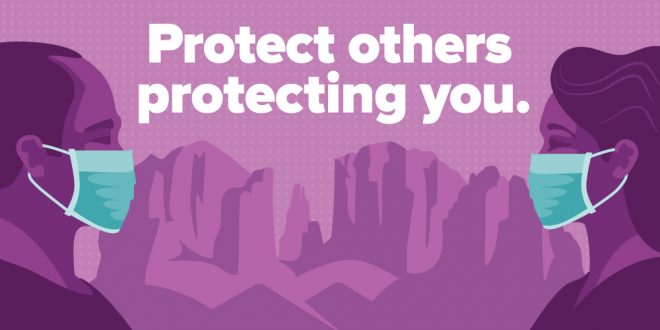 Additional Resources:
Support the Sedona community! – Here's How You Can Help
Here you will find the Sedona Emergency Community Resource Directory.