Updates to Sedonans
---
January 7, 2021
Dear fellow Sedonans,
Vaccine Distribution
As Arizona receives COVID-19 vaccine shipments, Governor Ducey is prioritizing health care workers, residents of long term care facilities, educators and vulnerable populations. ADHS Director Dr. Christ will provide additional details statewide. For now, stay updated on Coconino County and Yavapai County distributions of the vaccine.  
Visitor Education
Here in Sedona, visitors are continually exposed to our "Mask Up, Sedona" messages and posters that list expected behaviors, such as social distancing, staying home when sick and frequent handwashing. Businesses have access to Chamber posters advising customers that masks are required and hundreds of businesses have committed to Sedona | Safe.Clean.Ready. We regularly encourage businesses to be sure their posters are prominently displayed and that employees are following safety protocols.  
Governor Ducey's Executive Order limiting some business operations remain in effect. The Arizona Office of Tourism offers an excellent review of the state guidelines organized by type of business. Please check with your favorites for updates on their operational plans. 
Sedona's policy requiring that masks be worn in public places remains in effect. 
Yavapai County Community Health Services and Northern Arizona Healthcare offer up to date statistics on COVID-19's local, including number and location of cases, hospital bed space and critical care bed space. 
Additional Dollars For Hospitals
The Governor is directing an additional $60 million to provide more staffing at Arizona hospitals.
Support For Restaurants
The Governor issued an Executive Order making it easier for restaurants to expand outdoor dining spaces with the approval from the local governing body. The City of Sedona is welcoming all businesses who want to discuss options.
The Arizona Office of Tourism (AOT) is providing $100,000 to the Arizona Lodging and Tourism Association (AzLTA) to help restaurants and hotels strengthen sanitation and mitigation practices to further protect patrons and staff.
Mitigation Requirements For Events
The Governor also announced that organized public events of more than 50 people may only be approved by local cities, towns and counties if safety precautions issued by the CDC and ADHS are in place, and the event organizer has committed to implementing and enforcing these precautions.
If an event is approved, the jurisdiction must post the mitigation measures that the event organizer is required to implement and enforce on their website, as well as dedicate resources to enforce those mitigation measures.
As was the case before, a city, town or county may deny a request for an organized event due to public health concerns related to COVID-19.
Sedona | Safe.Clean.Ready Educates Residents, Visitors, Businesses 
274 businesses have signed on to Sedona | Safe.Clean.Ready as we continue to help residents, visitors and businesses interact safely. The site lists all participating businesses and valuable safety tips. Look for Sedona | Safe.Clean.Ready window stickers and posters at businesses all over town. 
We are reaching out to visitors, too, encouraging these eight safety practices when visiting Sedona:  
Stay home if you are sick or have been in contact with a sick person.

Wash your hands often with soap and water for at least 20 seconds.

Avoid touching your eyes, nose and mouth.

Maintain a 6-foot distance from others.

Wear a protective face covering in public (when 6 ft distancing isn't possible).

Limit contact with others.

Avoid congregating in public areas.

Stay on trails except to let people pass (maintain 6 ft distance).
Follow us on Facebook and Twitter for the latest steps we are taking together to battle the pandemic. #SedonaStrong. 
Sincerely,
Michelle Conway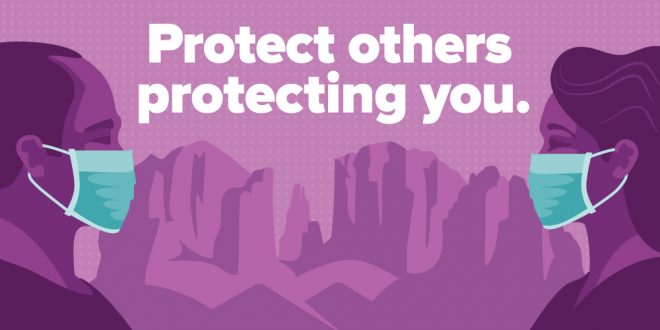 Additional Resources:
For testing sites near you, put in your zip code at Arizona Department of Health.
Help keep #SEDONASTRONG – Here's How You Can Help
Here you will find the Sedona Emergency Community Resource Directory.