Updates to Sedonans
---
September 9, 2020 at 11:00 a.m.
Dear fellow Sedonans,
Ducey, AZDHS Announce Criteria for Reopening Gyms, Other Businesses  
Governor Doug Ducey and the Arizona Department of Health Services have released opening criteria for gyms, theatres, bars with food permits, and other businesses closed by Executive Order.  
According to information released August 11 by the City of Sedona, "Because Yavapai County currently qualifies as a county with moderate transmission by the Arizona Department of Health Services (ADHS), gyms, movie theaters, and bars that have a food permit may reopen…"
Please check with your favorite affected businesses for updates on their plans. 
The Governor and State Superintendent of Schools Kathy Hoffman have announced a series of guidelines to inform school district decisions about resuming in-person learning. The guidelines do not specify a date for resumption of in-person classes. 
Ducey emphasizes the critical importance of face-coverings, physical distancing, frequent hand washing and staying home when sick. 
View the Executive Order on delaying the first day of school and protecting public health for students and teachers HERE. 
Northern Arizona Healthcare has a tracking dashboard regarding regional cases.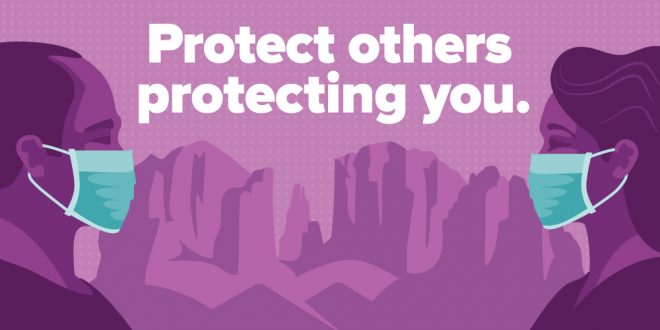 Mayor Issues Mandatory Face Covering Proclamation
By order of proclamation by Sedona Mayor Sandy Moriarty, anyone five years of age or older in a public place in Sedona is required to cover their nose and mouth with a mask where continuous physical distancing is difficult or impossible.  
You can review the proclamation here. For more information, read this FAQ.   
If you have questions, email questions@sedonaaz.gov. 
Sedona | Safe.Clean.Ready Educates Residents, Visitors, Businesses 
268 businesses are signed on to the Sedona | Safe.Clean.Ready campaign as we continue to urge all residents, visitors and businesses to interact safely. The site lists all participating businesses and valuable safety tips. Look for Sedona | Safe.Clean.Ready window stickers and posters at businesses all over town. 
We encourage these eight safety practices for locals and visitors:
Stay home if you are sick or have been in contact with a sick person

Wash your hands often with soap and water for at least 20 seconds

Avoid touching your eyes, nose, and mouth

Maintain a 6-foot distance from others

Wear a protective face covering in public (when 6 ft distancing isn't possible)

Limit contact with others

Avoid congregating in public areas

Stay on trails except to let people pass (maintain 6 ft distance)
Follow us on Facebook and Twitter for the latest steps we are taking together to battle the pandemic. #SedonaStrong. 
Sincerely,
Jennifer Wesselhoff
Additional Resources:
For testing sites near you, put in your zip code at Arizona Department of Health.
Help keep #SEDONASTRONG –Here's How You Can Help
Northern Arizona Healthcare COVID-19 tracking dashboard
Here you will find the Sedona Emergency Community Resource Directory.