Azulita Project is now certified as a Sustainable Business at the Advocate/Gold level
Azulita Project in Flagstaff promotes environmental conservation, especially plastics reduction. Programs include consulting with local schools and business on reducing single-use plastic, and driving local awareness through print and digital media, plastic-free events, and conversations with local government. They helped create the Straw Free Flagstaff initiative in partnership with the City of Flagstaff and other organizations, and also host film and outreach events with the Flagstaff Mountain Film Festival and others.
Programs Manager Emily Melhorn explains, "I have a master's degree in sustainable communities so I look at sustainability from multiple perspectives. My previous work dealt with different aspects of sustainability: local food systems, alternative transportation, and more." She chose to join Azulita and focus on plastic reduction because "I see plastics as the epitome of throwaway culture that treats our resources as disposable and valueless. This disposable society is detrimental in so many ways. Our work focuses at the root of a wasteful lifestyle."
Not surprisingly, team members are avid recyclers and avoid plastic packaging whenever possible. For example, Azulita purchased a cartridge-less printer, an Epson EcoTank ET-2720 that uses recyclable ink bottles to refill a well in the printer with soy-free ink. At events they avoid unnecessary, single use giveaways. For fundraisers "we only sell merchandise that aligns with our single-use plastic free mission, for example, reusable water bottles, reusable straws, and shopping bags made from recycled PET plastic." Snacks for volunteer mixers are made from scratch and served on washable platters to avoid packaging.
But it's not just about plastic, Melhorn explains. "We created a food waste reduction handout for the Farmers Market that outlines best practices for storage and preservation. We also provided recipes with new uses for under-utilized food along with ways to reduce or recycle food packaging." They divert 90% of their program-related food waste, and offer free public workshops on composting and food waste reduction strategies. Employees cycle to meetings whenever possible and list bus routes to Azulita events to encourage attendees alternative transportation.
More than any other certified business to date, Azulita has prioritized integrating social justice into their programs. Their first environmental justice program streamed the video, Story of Plastic. Social media includes Spanish language translations. "We're moving away from purely environmental images like sea turtles with straws in their nose to images of the people who are disproportionately impacted by plastics pollution."
This social justice emphasis helps them better understand their target audiences. "In outreach and materials, we consider the demographics of poverty and systemic racism in the community. We write materials through these lenses to make sure our message resonates with a broader population. For example, with DIY waste audit program we launched during the pandemic, we deliberately thought about costs for participants and recognized that not everyone has a recycle bin. We try to not make assumptions about the community we're serving, about what resources they have and don't have."
Azulita is a great place to work with remarkable policies given they only have part-time staff. Melhorn, who works from home, and her coworker Mary McCarthy, who lives out of state, are the only employees. They're supported by a seven-member volunteer board and an NAU intern. Employees receive prorated sick time which can be carried over from year to year, more generous than the State of Arizona mandates. Given that part-time employees have other commitments, Azulita is flexible about work hours, and overtime is voluntary. Employees are continually reminded not to work "freebie" hours to accomplish tasks and instead to ask for help. They also receive a stipend for personal internet and cell phone use.
Measurement is another factor that earns Azulita our Gold level certification. Melhorn says, "Over 5,000 disposable cups were kept out of the waste stream by implementing reusable cups and BYO at the Flagstaff Mountain Film Festival and 694 reusable bags have replaced plastic at the Farmers Market to date."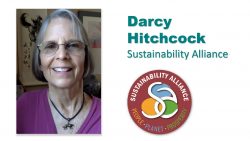 Melhorn's home office functions as Azulita's headquarters. It is in a historic building retrofitted with the latest energy efficiency features, and the house is certified Advanced Plus by the Coconino County Sustainable Building Program.
Passive cooling techniques eliminate the need for air conditioning, and the thermostat is kept no higher than 63 degrees in winter. The ventilation system has a heat recovery unit for added efficiency. Water conservation is a key focus. Melhorn's house has five downspouts, each with a 55-gallon rainwater barrel (purchased used). Water in the barrels is deposited into a 270 gallon tote shared by four houses, to be used on landscaping, houseplants, and floor cleaning. Greywater is used on a compost pile, non-edible plants, and fruit trees.  See who else is certified.
---